Cecilia wanted to become a veterinarian from a very young age as she loved to work outside with farm animals. Cecilia was encouraged by her father, a police dog trainer, as they visited hospitalized dogs together.
Having completed her Veterinary Degree in Romania, Cecilia practiced as a mixed-practice veterinarian for 17 years.
Upon arriving to Canada in 2001, Dr. Cecilia was mentored by highly trained veterinarians and was inspired to achieve Canadian standards, for which she feels immense gratitude. She worked in various clinics in Edmonton, including the Emergency Clinic, and in St. Albert.
Her main areas of interest are preventive care of companion animals, internal medicine and general surgery.
In her spare time, Cecilia loves practicing Hot Yoga, reading and outdoor activities such as jogging, camping and hiking. She lives in Edmonton with her husband Marius, and their daughter Ioana, who both help her to manage and operate this family practice.
Dr. Alireza Zandi
We are delighted to introduce and to welcome Dr. Alireza Zandi to our Albany Veterinary Clinic family!
Originally from Shiraz, Iran, Dr. Zandi's lifelong passion for animals and his dedication to scientific inquiry led him to pursue a career in veterinary medicine. In 2005, he earned his Doctor of Veterinary Medicine (DVM) degree from Azad Veterinary College in Shiraz, Iran, and embarked on his professional journey by becoming a full-time veterinarian with the Iran Veterinary Organization (IVO). During his tenure, Dr. Zandi garnered extensive experience in public health matters and provided care for a diverse range of animals, both large and small, including poultry. His valuable contributions spanned over 8 years before he made the decision to relocate to Canada with his family.
Having obtained a license and a certificate of qualification in both Canada and the United States, Dr. Zandi has been an esteemed member of the Canadian Veterinary Medical Association (CVMA) and the Alberta Veterinary Medical Association (ABVMA) since 2016. He has gained valuable experience with various veterinary clinics within the Edmonton area, which fostered an interest and helped him develop a specialized focus in soft tissue surgery, dentistry, and internal medicine.
Beyond his professional pursuits and when Dr. Zandi occasionally steps away from caring for your fluffy family members, he enjoys spending quality time with his wife and two children. He enjoys both playing and watching soccer, satisfies his love for exploration through travel, and fulfills his intellectual curiosity through his love of reading.
Dr. Zandi's expertise, compassion, and dedication further enrich our commitment to delivering top-tier care to your cherished furry family members. The Albany Veterinary team extends our sincere and heartfelt gratitude to Dr. Zandi for becoming an integral part of our Albany Veterinary family!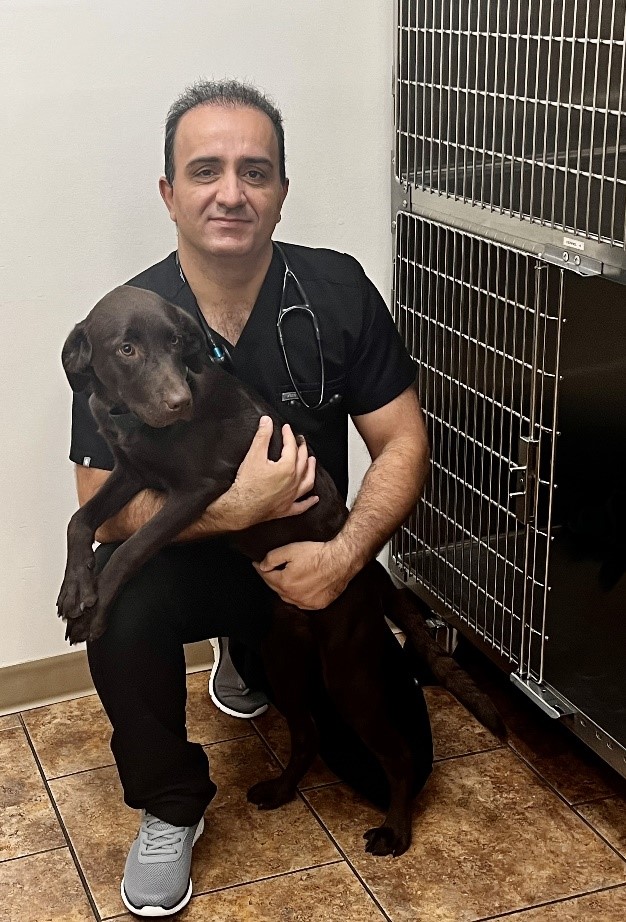 Dr. Brett Gramiak
Brett grew up in the town of Slave Lake, AB where she was immersed in nature at a young age. Growing up, she watched the wild birds, fox, deer, and bears in the backyard, while inside the house she helped care for various pocket pets such as hamsters and rabbits as well as reptiles, amphibians, injured birds, cats, and a border collie.
Following high school graduation, Brett moved to the big city and enrolled in the University of Alberta where she completed her Bachelor of Science in Animal Health. Following graduation, Brett worked for wildlife rehabilitation centers and veterinary hospitals throughout Western Canada as well as at the University of Alberta within the Science Animal Support Services.
Brett graduated from the University of Calgary, Faculty of Veterinary Medicine in 2023. Since, she has found a particular love for preventative care, dermatology, soft-tissue surgery, palliative/end of life care, and a growing interest for dentistry. She lives in St. Albert with her partner and his son, alongside two siamese rescue crosses. She beyond thrilled to have joined the family at Albany Veterinary Clinic and is accepting small animal patients including rabbits today.
In her spare time, Brett enjoys seeing nearby family, seeking out the best local espresso, hot yoga, oil painting, gardening, and tending to her indoor plant collection.